It's the second official morning of CES 2012 and we're all set and seated at Qualcomm's keynote presentation, ready here to bet a heaping helping of chip news galore. What we're going to see is everything from "breakthroughs" as they say in Consumer Electronics to their sales figures from the past year – we're hoping to see some surprises in device form, as well. We're also expecting some news in the form of Snapdragon GameCommand, as re-revealed earlier this month.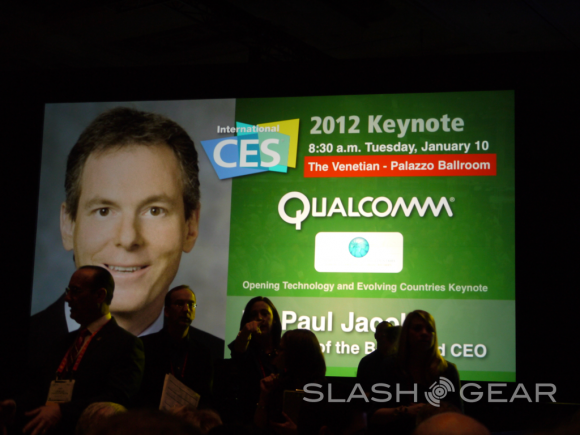 We'll be seeing Dr Paul Jacobs presenting in a set of talks about Qualcomm and their partnering OeM partners over the next hour or so. Stick with us via our several CES portals: [CES 2012] for all news related to CES 2012 and [CES LIVE] for all of our in-person news including but not limited to hands-on photos and videos, event announcements, and the like!
Story TimelineQualcomm Snapdragon S4 developer tablet running Android 4.0 ICS on Dec 13th 2011Qualcomm announces Snapdragon S2 and S3 support for GPS and GLONASS on Dec 16th 2011Qualcomm Snapdragon Stadium in the works for temporary brand impact on Dec 16th 2011FCC green lights AT&T/Qualcomm deal on Dec 23rd 2011Qualcomm Snapdragon GameCommand launch date set on Jan 5th 2012Qualcomm Skifta Media Shifting Platform to take on Sonos on Jan 10th 2012
Live from Qualcomm CES 2012 keynote is written by Chris Burns & originally posted on SlashGear.
© 2005 – 2012, SlashGear. All right reserved.

SlashGear